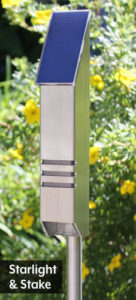 Description
This versatile and attractive solar light will add a unique element of interest to any deck or outdoor area. A one-piece stainless steel shell holds a water resistant LED light assembly with rechargeable NiMH battery.
Specifications
Light output: 5 to 6 lumens for up to 10 hours
Outer shell: A316 (marine grade), brushed stainless steel
Battery: rechargeable AAA NiMH included
Dimensions:

Overall – 1½" x 1½" x 9″
Shell – 1½" x 1½" x 8¾"
Panel – 1⅝ x 3¾

Hardware: wood and metal mounting screws included
Light housing: water resistant (IP54) polycarbonate shell
Accessories
Create a beautiful decorative effect by installing Starlights with stakes (optional) to paths and exterior areas of your home.